The Ancient Near Eastern Setting
This activity introduces significant general elements of the ancient world, and the basic skill to navigate this series of activities. The other activities in this series will each build on this one additional kinds of investigation.
You will need Google Earth to do this activity (download it free).
(a) Click for Alphabetical Scriptural Maps (keep this page open in a separate window to complete this activity).
(b) Un-check all boxes in the Layers panel (1). You may wish to minimize the layers panel (2). Click to un-check "All Bible Places" in Places panel (3). Click on plus mark next to "All Bible Places" to reveal alphabetic list (3).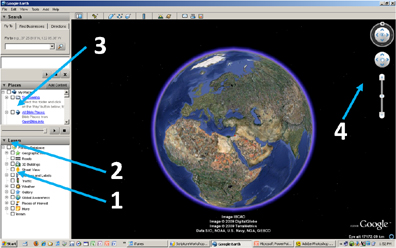 (c) Scroll down the list and check the following boxes:
Israel
Judah
Canaan
Ammon
Moab
Edom
Philistia

Bashan
Midian
Damascus (Aram/Syria)
Tyre
Ur
Haran
Sinai
Egypt
Red Sea
Nineveh
Babylon
Susa
Tigris River
Euphrates River
(d) View these locations at different altitudes to gain orientation to them. Orient the map using the mouse: point and click to move map, scrolling wheel adjusts altitude. Alternatively, use the tools in the upper right part of the screen (4 above).
(e) If you wish to save your work, click "Edit" drop-down menu on the upper toolbar, and click "Copy Image." Next, open an image editing program and paste the image (like Pp).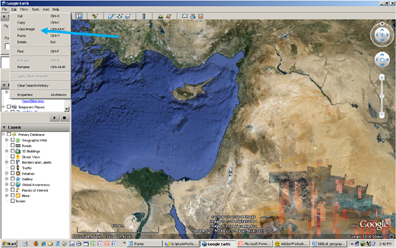 Copyright © 2009 ScriptureWorkshop.com
Return to The Biblical Geography Workshop
---